:

:

:

:

sk83520 how to check connectivity to CP
Options
Mark Topic as New

Mark Topic as Read

Float this Topic for Current User

Bookmark

Subscribe

Mute
Mark as New

Bookmark

Subscribe

Mute

Email to a Friend
sk83520 how to check connectivity to CP
One of Dameon Welch Abernathy‌ favorite SKs

mine too. I'm sure most have already written own check scripts, but if you have been too busy you may use this one. Output will look like this: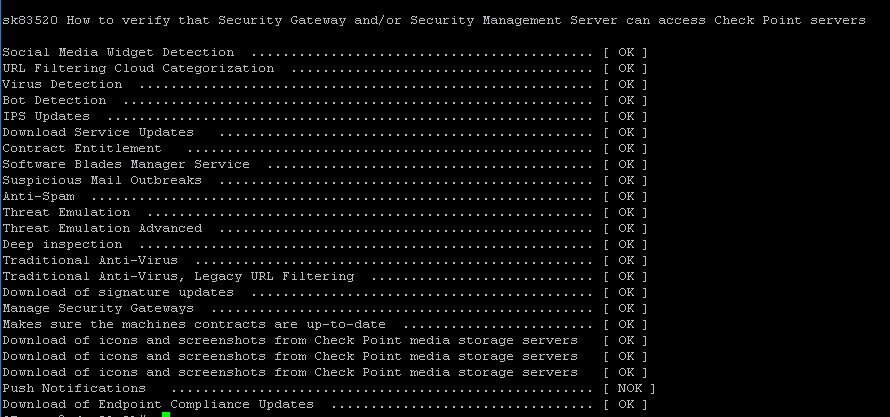 If needed you may chuck in --proxy <your proxy> option into curl_cli command. Just didn't want to make it too complex - this is just a quick fix to verify HTTP/S connectivity towards various CP servers in seconds.
FYI, I noticed that "push.checkpoint.com" returns 403 Forbidden, so I left it as "NOK" for now - script will only accept 200 OK, 301 Moved and 302 Found as valid response
As you will notice, you can add your own URLs to be checked at the bottom if you wish.
#!/bin/bash
check_url () {
 result=" [ NOK ]"
 name="$2 "
 while [ ${#name} -lt 74 ]; do name="$name."; done
 echo -en "$name "
 if [ `curl_cli -Lisk $1 | head -1 | egrep -c "1.1 200|OK|Found|Moved"` -gt 0 ]; then result=" [ OK ]"; fi
 echo $result
}

echo
echo "sk83520 How to verify that Security Gateway and/or Security Management Server can access Check Point servers"
echo

check_url 'http://cws.checkpoint.com/APPI/SystemStatus/type/short' 'Social Media Widget Detection'
check_url 'http://cws.checkpoint.com/URLF/SystemStatus/type/short' 'URL Filtering Cloud Categorization'
check_url 'http://cws.checkpoint.com/AntiVirus/SystemStatus/type/short' 'Virus Detection'
check_url 'http://cws.checkpoint.com/Malware/SystemStatus/type/short' 'Bot Detection'
check_url 'https://updates.checkpoint.com/' 'IPS Updates and Updatable Objects'
check_url 'http://crl.globalsign.com' 'CRL Globalsign'
check_url 'http://dl3.checkpoint.com' 'Download Service Updates '
check_url 'https://usercenter.checkpoint.com/usercenter/services/ProductCoverageService' 'Contract Entitlement '
check_url 'https://usercenter.checkpoint.com/usercenter/services/BladesManagerService' 'Software Blades Manager Service'
check_url 'http://resolver1.chkp.ctmail.com' 'Suspicious Mail Outbreaks'
check_url 'http://download.ctmail.com' 'Anti-Spam'
check_url 'http://te.checkpoint.com/tecloud/Ping' 'Threat Emulation'
check_url 'http://teadv.checkpoint.com' 'Threat Emulation Advanced'
check_url 'https://threat-emulation.checkpoint.com/tecloud/Ping' 'Threat Emulation'
check_url 'https://ptcs.checkpoint.com' 'PTC Updates'
check_url 'http://kav8.zonealarm.com/version.txt' 'Deep inspection'
check_url 'http://kav8.checkpoint.com' 'Traditional Anti-Virus'
check_url 'http://avupdates.checkpoint.com/UrlList.txt' 'Traditional Anti-Virus, Legacy URL Filtering'
check_url 'http://sigcheck.checkpoint.com/Siglist2.txt' 'Download of signature updates'
check_url 'http://secureupdates.checkpoint.com' 'Manage Security Gateways'
check_url 'https://productcoverage.checkpoint.com/ProductCoverageService' 'Makes sure the machines contracts are up-to-date'
check_url 'https://sc1.checkpoint.com/sc/images/checkmark.gif' 'Download of icons and screenshots from Check Point media storage servers'
check_url 'https://sc1.checkpoint.com/za/images/facetime/large_png/60342479_lrg.png' 'Download of icons and screenshots from Check Point media storage servers'
check_url 'https://sc1.checkpoint.com/za/images/facetime/large_png/60096017_lrg.png' 'Download of icons and screenshots from Check Point media storage servers'
check_url 'https://push.checkpoint.com/push/ping' 'Push Notifications '
check_url 'http://downloads.checkpoint.com' 'Download of Endpoint Compliance Updates'
check_url 'http://productservices.checkpoint.com' 'Next Generation Licensing'

10 Replies