:

:

:

:

Route specific subnet out second ISP interface
Options
Mark Topic as New

Mark Topic as Read

Float this Topic for Current User

Bookmark

Subscribe

Mute
Turn on suggestions
Auto-suggest helps you quickly narrow down your search results by suggesting possible matches as you type.
Showing results for 
Are you a member of CheckMates?
×
Sign in
with your Check Point UserCenter/PartnerMap account to access more great content and get a chance to win some Apple AirPods! If you don't have an account,
create one now
for free!
Mark as New

Bookmark

Subscribe

Mute
Hi,
Need some assistance setting up policy based routing or a static route. Basically just looking to route traffic from one VLAN out a secondary ISP link. Reading through the Policy based routing article SK100500 this does not give me the scenario. There is no way to specific "internet" as a destination.
Source: 192.168.178.x - Destination: Internet - Gateway - ISP 2 (eth1)
See my mspaint diagram below. Can anyone advise how i would route this traffic our my second ISP link?
Any advice/assistance would be great!
Cheers,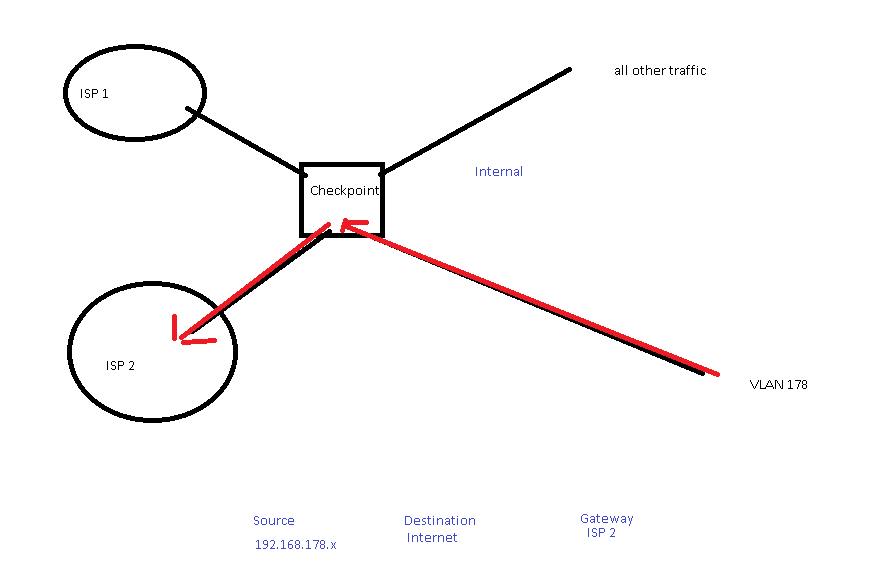 Called checkpoint support, they didnt really understand what i meant, even after i drew them a basic diagram in paint.
1 Solution
Mark as New

Bookmark

Subscribe

Mute
Hi Mike,

PBR is based on IP and Ports, there is no Internet Object as on regular policy.
To route VLAN178 through ISP2 and assuming ISP1 is configured as your default route, yo have to do the following:
1. Create a new PBR table of type Default Route that points to ISP2 next hop address.
2. Add a new PBR rule with source Inbound Interface of VLAN178 (I'm assuming is locally conected on a subinterface ethx.178) who uses the PBR table created earlier. On this case, you can't solely use the segment 192.168.178.X/XX since the Firewall probably has an IP address on this segment and could derive on unwanted behavior.

Please note the following:
- Hide behind Gateway NAT or Hide Behind IP (on ISP2 range) must be configured for VLAN178's Network Object to allow traffic leave the ISP2 interface with correct IP address. If you use Hide behind IP, Proxy ARP may be neccesary
- Since PBR is processed before regular Routing Table, if you follow the two steps mentioned above, all traffic from VLAN178 will be redirected to ISP2 link no matter which is the final destination. If you want to route to local networks, you will have to create a new PBR table including those you need to reach locally and specify the output interface (like a copy of your routing table); after that you need to create a PBR rule with lower priority pointing to this table.
- There is no automatic failover, so if ISP2 is down on some place along the path; all traffic still be sent to this link.
- If you have ISP Redundancy configured, PBR is bypassed.
Regards.
6 Replies